About Injectable Dermal Fillers
+ What is the purpose of injectable dermal fillers and what areas can they be used to treat?
Over time as a part of the aging process, areas of the face naturally lose volume. Dermal fillers add volume back to those areas where deep folds and lines have developed as a result of these changes.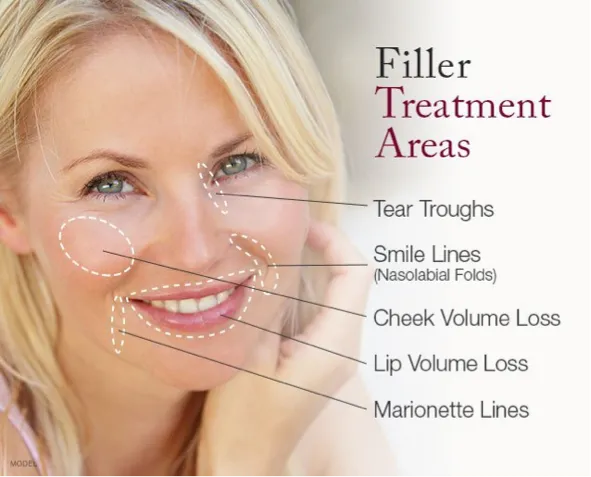 + Which injectable dermal fillers are offered at your office?
At Monarch Dermatology, we offer Juvederm, Restylane, and Radiesse products.
+ What are Juvederm ® , Restylane ® , and Radiesse ® ?
Juvederm and Restylane are hyaluronic acid fillers, which offer an improvement in safety, quality, and duration of results over previous methods that utilized fat and collagen. Hyaluronic acid is a substance that absorbs water and is found naturally in the deeper layers of our skin to provide volume and fullness. Hyaluronic acid fillers have the additional benefit of being dissolvable in case of undesirable outcomes.
Juvederm Ultra XC, Juvederm Ultra Plus XC, Juvederm Voluma, Restylane-L, and Restylane Lift (formerly Perlane) are smooth gel injectable fillers made from hyaluronic acid that have varying degrees of thickness. Juvederm Ultra XC is intended for shallow wrinkles, Juvederm Ultra Plus XC is optimal for deeper furrows, and Juvederm Voluma is intended for adding volume to your cheek area to correct age-related volume loss. Restylane-L is intended for mild to moderate wrinkles and Restylane Lift (formerly Perlane) is a thicker substance intended for adding volume.
Radiesse is a filler made of calcium-based microspheres that are similar to minerals found naturally in the body. Once injected, Radiesse stimulates the body to produce collagen naturally. Over time the body absorbs the product and leaves behind the natural collagen. In addition to filling deep lines on the face, Radiesse is the only FDA-approved injectable filler for treating volume loss in the hands. While Radiesse tends to have longer-lasting results than hyaluronic acid fillers, it generally costs more and cannot be dissolved in the event of adverse outcomes.
+ Who should consider injectable fillers?
Adults wishing to add volume and soften resting facial wrinkles may benefit from cosmetic filler treatments. It must be emphasized that fillers do NOT eliminate wrinkles, but rather they smooth out facial contours to achieve a more youthful appearance.
+ Who should be cautious with injectable filler treatments?
• If you have a strong tendency to bruise, you may decide to avoid injectable fillers as you may develop temporary but significant swelling and bruising after a procedure.
• If you have active cold sores, you should delay your treatment until they have resolved. Please inform us if you have a history of cold sores, as we may pretreat you prior to a treatment session.
+ Who should not be treated with injectable fillers?
• If you are pregnant, attempting to become pregnant, or breastfeeding.
• If you have a known allergy to bacterial proteins or lidocaine.

What to Expect
+ When can visible results be seen after treatment with injectable fillers?
The results are seen almost immediately following treatment. Despite our good faith estimation of the amount of filler necessary to achieve a given cosmetic result, sometimes injection of the requested amount of filler does not result in complete correction. In these cases, the patient may decide to purchase additional filler to attempt to achieve the desired results.
Also, in certain areas (eg-lips and under the eyes), swelling may occur with injection of the filler and it may take several days for the final results to become apparent.
+ How long do the effects last? How many injectable filler treatment sessions will I need?
It varies from patient to patient and from filler to filler– the effects usually last between 6-12 months. Multiple treatments may initially be necessary to achieve desired results. Touch up treatments will be necessary to maintain these results once the effects of the prior treatment diminish. No guarantees or assurances can be made since clinical results will vary between patients and filler type used.
+ What is the injectable filler treatment like?
Dr. Bhatnagar will inject the filler with a small needle. There will be some minor discomfort during the injection, but it is generally tolerable. There is local anesthetic mixed with the injectable fillers, so extra anesthesia is often unnecessary (see below for optional use of topical LMX 5%). The entire procedure typically takes 20-30 minutes.
+ What are the side effects of injectable fillers?
While most patients tolerate the procedure very well, there is often mild discomfort associated with the injections and sometimes bruising and/or swelling. Bruising and swelling may take up to 1-2 weeks to subside. Other less common side effects include infection of an injection site, blueish discoloration over an injection site, beading of injected material, and very rarely scarring, ulceration, embolus, or an allergic reaction.
+ How shall I prepare for my injectable filler treatment?
• Please do not wear make-up at the time of the treatment session (or be prepared to wash it off before the procedure).
• If you have a history of cold sores and we are injecting the lip area, please inform us prior to your appointment, as we may pretreat you with an oral antiviral medication.
• If you are taking over the counter agents that can increase bruising such as Advil (ibuprofen), Aleve (naproxen), aspirin, fish oil supplements, or vitamin E, please ask your primary care doctor about stopping these one week before the procedure to help minimize the risk of bruising. If these medications are medically necessary, please continue them. Do not stop your Coumadin or Plavix. Do not stop aspirin without consulting with your primary care doctor.
• Optional: If you wish to minimize injection discomfort, you may purchase LMX 5% cream at the pharmacy (non-prescription topical anesthetic) and apply it to the areas that will be treated 30 minutes before your procedure.
+ What do I need to do AFTER my injectable filler treatment?
• You will likely have minor swelling of the treated areas for 24-48 hours which can be managed with cold compresses. Sleep with an extra pillow to minimize this.
• If you stopped a blood thinning medicine, you may resume them 24 hours after the treatment.
• You may wash your face normally. It is best to avoid makeup in the treated area on the day of your procedure.
• You may feel some bumps or firmness in the treated area, but the material will soften over a few weeks.
• To avoid bruising, do not fly in an airplane or do vigorous exercise for 24 hours after procedure.
• Please contact the office if you develop new bumps, pain, or redness one or more days after the procedure or if there is a visible irregularity that persists beyond 2 weeks.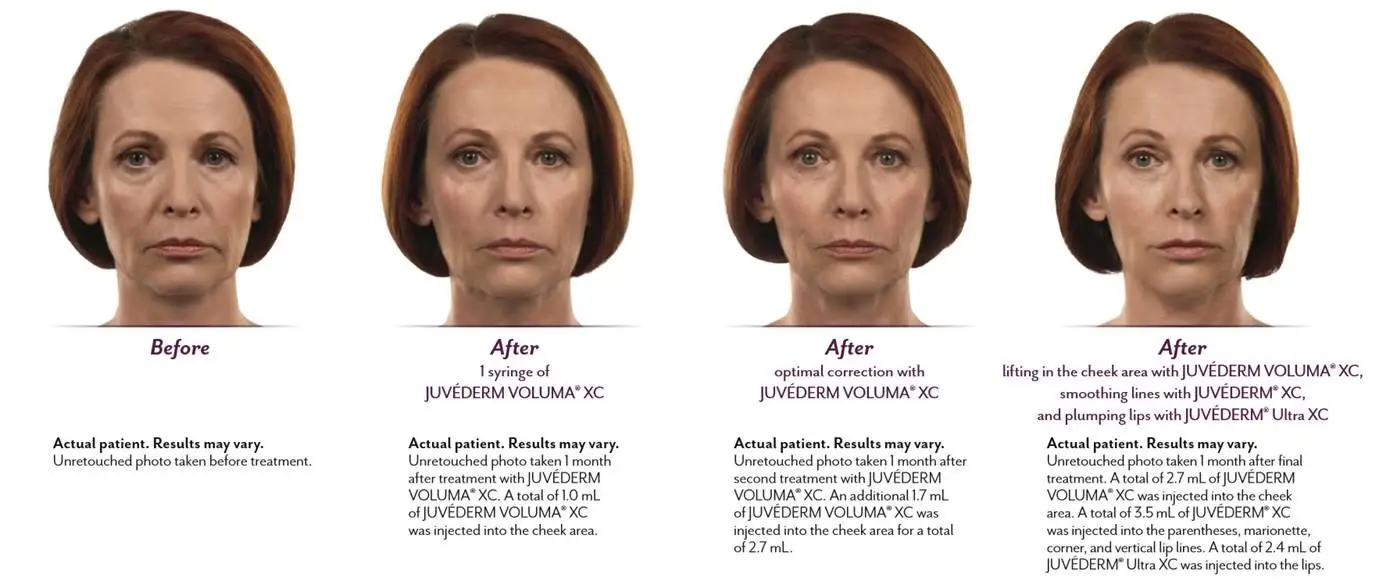 If you are interested in injectable fillers, Contact us today or call 732-739-3223 to schedule a consultation with Dr. Divya Bhatnagar . Together, you can discuss your concerns, determine which injectable filler is right for you, and design a treatment plan that will achieve your aesthetic goals!